Cincinnati Bell launches cloud-based virtual fax service with Cloud Worldwide Services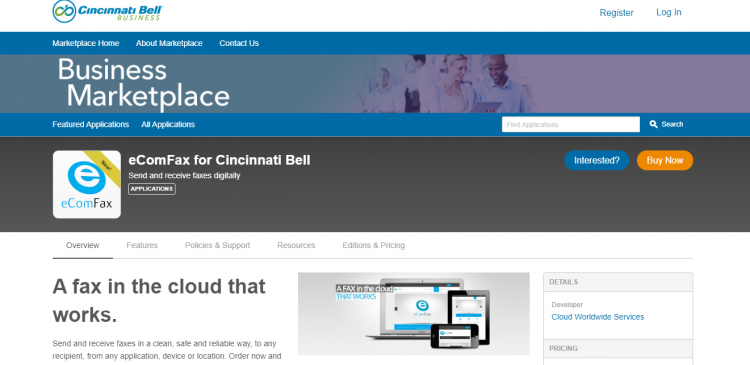 Cincinnati, Ohio, USA and Madrid, Spain, January 28, 2020
Cloud Worldwide Services, a leading provider of cloud services and technology, announced that Cincinnati Bell has selected Cloud Worldwide Services' eComFax solution to be part of the Cincinnati Bell Business Marketplace strategic digital communication services portfolio.
eComFax is a cloud-based fax solution that enables companies to effortlessly send and receive faxes using any device in a purely digital way and in accordance with the industry's highest levels of data privacy, security, and encryption standards.
The Cincinnati Bell Business Marketplace is a one-stop, web-based business applications marketplace that helps companies leverage cloud-based business applications in a simple and secure way. The platform was launched to help businesses of all sizes truly digitize their business operations.
"We are thrilled and excited about our recently launched Cincinnati Bell Business Marketplace. The platform will support our mission to help customers digitally transform their businesses and leverage the benefits of next-generation cloud technology. The eComFax solution provides significant value to these customers that are focused on becoming agile and digitally enabled in today's modern workspace and business environment," said Katryce Hollon, Program Lead and Product Manager – Business Value Added Services at Cincinnati Bell.
A pure SaaS application, eComFax requires no upfront investment or server installations. eComFax empowers companies of all sizes and their users to truly benefit from being mobile, while keeping security at the highest standard available.
"Today's modern world is changing rapidly and we feel the obligation to deliver the "modern" to the user by simplifying the way people communicate but also in doing so, keep security exactly what it is – the most valuable asset a company can have. eComFax points exactly to these two objectives: modern/digital and high security. We are delighted and very excited to be partnering up with Cincinnati Bell and pleased that Cloud Worldwide Services was selected to enhance the Cincinnati Bell Business Marketplace's already strong value proposition towards its customers." said Santiago Vañó Julia, CEO of Cloud Worldwide Services.
About Cloud Worldwide Services
CWS specializes in cloud based advanced communication solutions. Pioneers and over time becoming experts in developing (within AWS infrastructure) secure, compliant, reliable and scalable, advanced messaging and call recording solutions, that are trusted by Top global organizations that operate in regulated industries or demand high level security and encryption.
About Cincinnati Bell Inc.
With headquarters in Cincinnati, Ohio, Cincinnati Bell Inc. (NYSE: CBB) delivers integrated communications solutions to residential and business customers over its fiber-optic and copper networks including high-speed internet, video, voice and data. Cincinnati Bell provides service in areas of Ohio, Kentucky, Indiana and Hawaii. In addition, enterprise customers across the United States and Canada rely on CBTS and OnX, wholly-owned subsidiaries, for efficient, scalable office communications systems and end-to-end IT solutions. For more information, please visit www.cincinnatibell.com. The information on the Company's website is not incorporated by reference in this press release.
For more information, please visit:
https://marketplace.cincinnatibell.com/
https://www.cloudworldwideservices.com/en/