Cloud Worldwide Services is recertified in the National Security Scheme at HIGH level
by Laura
September 07, 2023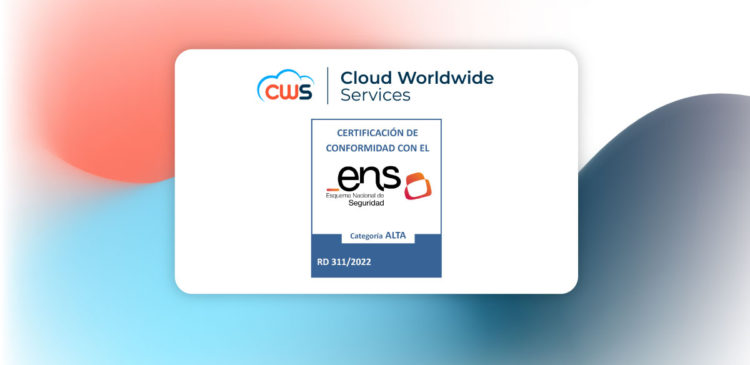 Madrid, September 07th, 2023
Cloud Worldwide Services, a company dedicated to the development of communication solutions "as a service" in the cloud, has reached one more year of the Spanish National Security Scheme certification at its highest level, which certifies that the information systems of our services, Recordia and eComFax, comply with the strictest security requirements.
The Spanish National Security Scheme establishes a series of measures to guarantee the security of systems, data, communications, and electronic services, allowing the exercise of rights and the fulfillment of duties through electronic channels.
Among the benefits of achieving this recertification are the guarantee of having quality and totally secure products, compliance with legal requirements for Public Administrations, and having security policies that allow adequate protection of information systems, services, and their information.
Cloud Worldwide Services already had the certification of conformity with the Spanish National Security Scheme at the HIGH level and with this new achievement, being recertified at the highest level, the organization consolidates its commitment to improve the security of its products and processes and the satisfaction of its customers.
Cloud Worldwide Services is already accredited with ISO 27001 and ISO 9001, which, together with this HIGH-level recertification with the Spanish National Security Scheme, consolidates the success of the organization's commitment to quality, security, and the pursuit of excellence.
Cloud Worldwide Services
CWS specializes in cloud-based advanced communication solutions. Pioneers and over time becoming experts in developing, within AWS infrastructure, secure, compliant, reliable, and scalable, advanced messaging and call recording solutions, that are trusted by the World´s top Telcos and Financial Institutions.
The company has two major products: eComFax, a fax solution in the cloud, and Recordia, a complete call recording service with Artificial Intelligence and Speech Analytics.

For more information:
https://www.cloudworldwideservices.com/en/
Twitter: @CloudWorldwide ; LinkedIn: Cloud Worldwide Services