Cloud Worldwide Services receives ISO/IEC 27001:2017 certification from AENOR in Information Security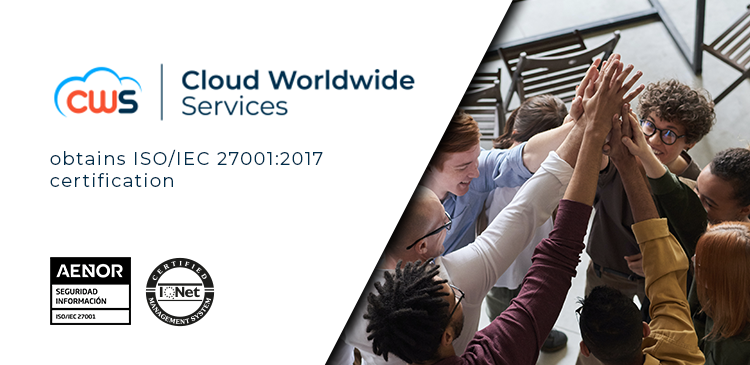 Madrid, March 16th, 2022
Cloud Worldwide Services, a company dedicated to the use and development of "as a service" communication solutions in the cloud, has obtained ISO/IEC 27001:2017 certification, which accredits compliance with good practices in information security management systems.
ISO 27001 is an international standard that specifies requirements for the establishment, implementation, maintenance, and continual improvement of information security management systems in the context of the organization. This standard recognizes the organization's commitment to continuous improvement, quality and security, ensuring compliance with the relevant data protection legislation.
The ISO 27001 certification recognizes Cloud Worldwide Services' evolution as an organization under the principles of transparency and proactive responsibility to comply with data protection regulations.
As recognition of best practices, this ISO 27001 standard is proof that Cloud Worldwide Services offers security-based services that are deeply rooted in all the organization's processes. Furthermore, certification to ISO 27001 demonstrates that Cloud Worldwide Services is at the forefront in the technical implementation of processes to address information risks and security issues.
Cloud Worldwide Services already is accredited with the certificate of conformity with the National Security Scheme, the highest certification in Spain, which, together with this new certification in ISO 27001, is additional proof of the organization's commitment to quality, security, and the pursuit of excellence. 
Cloud Worldwide Services
CWS specializes in cloud-based advanced communication solutions. Pioneers and over time becoming experts in developing, within AWS infrastructure, secure, compliant, reliable, and scalable, advanced messaging and call recording solutions, that are trusted by the World´s top Telcos and Financial Institutions.
The company has two major products: eComFax, a fax solution in the cloud, and Recordia, a complete call recording service with Artificial Intelligence and Speech Analytics.
For more information:
www.cloudworldwideservices.com/en
Twitter: @CloudWorldwide ; LinkedIn: Cloud Worldwide Services