Cisco Webex Teams: Send and Receive Faxes with eComfax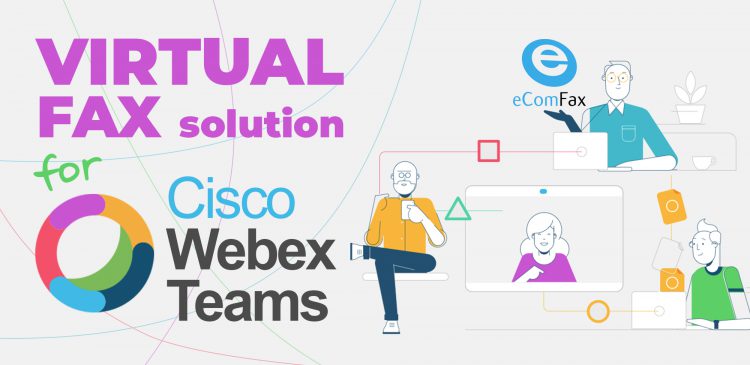 Cisco Webex Teams is an easy-to-use collaboration solution that keeps people and teamwork connected anytime, anywhere. With the Cisco Webex app, create secure virtual workspaces for everything from short-term project completion to long-term business opportunity resolution. Also simplify day-to-day interactions with messaging and file sharing that can be enhanced with third-party app integrations for seamless workflow, increase productivity and engagement with real-time communications, initiate calls instantly, have High-quality video meetings with screen sharing at the touch of a button, express your ideas on digital whiteboards that colleagues can add anytime.
Learn more about eComfax, our solution for sending and receiving faxes with Cisco Webex Teams.
With the advancement of technology and how the world of business communications is transforming, the Fax is not usually a topic of interest, but the use of the Fax is still very high in Spain and in the rest of the world. A 2017 study showed that 82% of the companies surveyed indicated that the use of the Fax remained the same or increased compared to the previous year. In the sectors where it is used the most are manufacturing, health, finance and public administration. Regulatory compliance and safety are among the most important factors considered when using the Fax.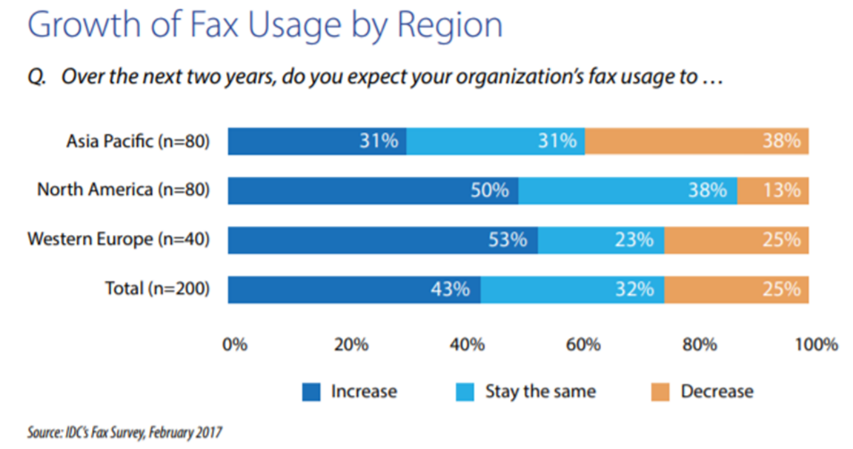 How does fax integrate with modern technology?
People think that the Fax is not such a big deal, that it is better not to waste time seeing what to do with that machine in the corridor of the office, however, let's not forget that its use is increasing, so we must find a way to adapt the Fax to this current world of modern technology.
The good news is that the Fax is going digital. Now, virtual fax solutions, such as eComfax, combine the reliability of traditional analog fax with the technology of cloud computing. Cloud solutions like eComfax allow you to send and receive faxes from your email.
So what should businesses do about faxing?
Option 1: Keep the traditional fax machine in the middle of the office, without making changes or updating the technology.
Option 2: Use a solution like eComFax. To keep and use your Fax number for life: First, buy a subscription in eComFax and second, send your number to the eComFax node provided in your country. Then, the Telco will put the redirected number in the "Forwarding number" field so that we can forward the transmission to the destination.
Option 3: You can simply transfer your number to the eComFax network and thus use the Virtual Fax solution from the eComfax platform itself and then send and receive the faxes from your email account.
Option 4: For large corporations, they can explore other avenues such as SIPTrunk directly to the eComFax network. If you want to avoid or transfer your number to the eComFax network, we can offer you this option. You give us the numbers and then we redirect the faxes to the appropriate recipient.
Note: For HIPAA compliance, faxes can only be routed to fax numbers, as email is generally not considered compliant with this standard.
What is eComFax?
eComFax is a cloud-based virtual fax service that allows companies to send and receive faxes and SMS from virtually anywhere, with any device that has an Internet connection: either by email or by using the web platform of Cloud-based eComfax. In this case, there is no need for large investments or the purchase of software, fax server or fax machine, all that is needed is an electronic device (a computer, tablet, mobile phone, etc.) with an Internet connection. eComFax ensures that you comply with regulations in all industries, such as HIPPA, MiFID II, GDPR and Dodd-Frank, and many others.
How can eComFax be used in conjunction with Cisco Webex Teams?
It's easy to get started with eComFax and Webex Teams, and there are multiple ways to use it.
1. Send and receive faxes through your email
eComFax allows you to send faxes directly from your corporate email. All you need to do is subscribe to the eComFax service. Then open your email and click new email. Enter the number@fax.ecomfax.com, attach your document and press send. To see how to do this, you can watch this video below.
2. Direct routing to the eComFax server
If you need to send highly confidential documents or comply with regulations like CCPA and HIPAA, eComFax offers a special feature that ensures compliance and secure end-to-end transmission. In the settings, you can select the option to send all faxes directly to the eComFax server. This means that the eComFax server receives the fax, reviews it, and ensures the fax's certification, security, and compliance.
Does eComFax offer other benefits?
Yes, eComFax offers a number of benefits.
We can provide you with a local number from almost anywhere in the world, or if you already have a fax number and want to keep it, we offer a transfer service. eComFax is based on a pay-per-use model, which means that you can increase or decrease your usage at any time.
You can safely store confidential documents and data. We offer unlimited cloud storage where you can store faxes and documents in our highly secure cloud for as long as you need it.
In addition to fax, we also offer CertiSMS, which allows you to send certified and secure SMS messages.
All of our features comply with global regulations such as HIPAA, GDPR, MiFID II, CCPA, PCI-DSS and more.
Find out now more information about how eComFax can help your business.