All your business needs to know about smart speakers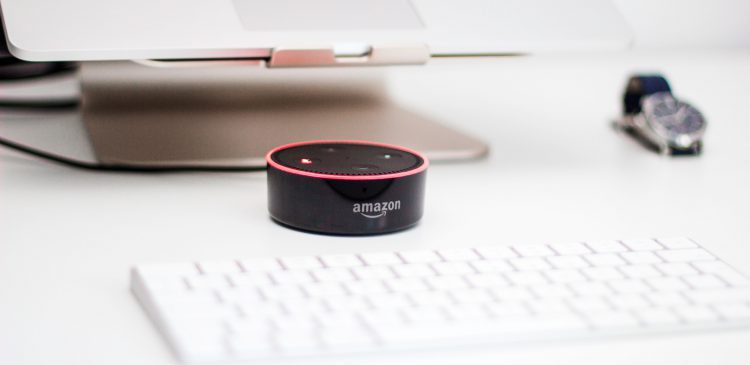 Voice searches in smart speakers are increasing rapidly and are set to continue doing so over the next number of years. By 2020, 50% of all searches will be done by voice, according to ComScore. Why is this? Undoubtedly, smart speakers are a key factor, so what are they and how can they be beneficial for businesses?
Smart speakers – What are they?
Smart speakers, to put it simply, are wireless speakers with voice-control built into them. In recent years, the big guns of the internet industry have released their own voice activated smart speakers, led by the Amazon Echo and Google Home. These devices are becoming an intricate part of people's daily routines. Top research firm Gartner predicts that 30% of all searches will be done without a screen by 2020, which will of course effect businesses.
Smart speakers and business?
Technology is getting better, faster and smarter every day and businesses need to adapt quickly. A remarkable 72% of households that own a smart speaker use them daily; these devices shouldn't be overlooked or underestimated. With the prediction for increased voice searches, businesses need to take a look at their strategies and readjust them, before getting left behind. Technology waits for no man – or business.
How can businesses incorporate the use of this technology? The main focus of these devices in aiding productivity. Currently, only amazon has a tailored service aimed for business, 'Alexa for Business'. Amazon has started to roll out this service in the US over the past year and it´s currently only in English. However, it won't be long before this service expands worldwide and arrives to the EU and in multiple languages. Other tech giants such as Google are sure to follow suit and release their own business orientated smart speakers.
What is Alexa for Business?
Alexa for business adds to what is already available with Alexa. The Alexa for business allows you to use multiple devices and integrate them into the workplace both as shared devices in common areas or conference rooms and it can also enroll users, using their own personal devices. The main objective of Alexa for Business is to increase productivity and create a natural way for people to interact with the technology they use daily. It doesn´t just offer you the ability to place multiple devices around the office. It has a high level of security and a manageability model as well has the ability to set up hundreds or thousands of devices without having to configure each one individually.
Alexa for business uses information about devices, user accounts and skills in the company. These are all stored in the Alexa for Business account and skills can be preprogrammed or you can build custom voice skills in the Alexa Skills Kit and the Alexa for Business APIs, which can be made available as private skills for your company.
Why should you use Alexa for Business and how?
– Shared Devices
Everyone can access shared devices and these are not linked to personal Alexa accounts. You can choose which skills can be used on which devices and these can be used in a variety of ways. In the conference room, you can start and end meetings, control conference room settings, and even book conference rooms using your voice. No need for remote controls, looking up conference call information and dialing into meetings. It can all be done by simply saying, "Alexa start my meeting" or "Alexa turn off the projector." It can help to run the workplace more efficiently, by creating a weekly briefing, ordering new supplies, notifying IT of computer issues, on-the-job training, etc.
– Enrolled Users
Users can use their personal Alexa devices for work, at their desks or in their homes. Through the Alexa for Business enrollment portal, users can register their devices to join their companies Alexa for Business account. They can also use the shared devices, but can only access skills available on those devices and not those enabled in their personal Alexa accounts. You can assign the skills they need access to, and place them around the office.
– Virtual Assistant
Alexa for Business can do a variety of tasks; Query databases and reports, access your latest sales data, check inventory in warehouses, track to-do lists, set reminders, dial into conference calls, etc. It also has a smart scheduling assistant, which can link your work and personal calendar, check upcoming appointments schedule, change or cancel a meeting. For example, if you want to schedule a meeting with the finance director, you can tell Alexa for Business and it will find times that suit you both, schedule it, and invite the other person to participate in the meeting. All in a matter of seconds and without lifting a finger.
– The customer and smart speakers
We also need to look at how customers use these devices. They´re being used more frequently and by more people every day. Internet searches, online shopping and even live chat can be done using these devices which is why it's vital that companies familiarize themselves with these and adapt to them.
Recordia and Smart speakers
Here at Comunycarse, our Recordia solution can be integrated with the use of these devices. How can this be done? Recordia can be adapted to the individual needs of a company and is fully compliant with MiFID II and the GDPR.
As customers begin to use these smart speakers alongside phone calls, businesses will have to adapt. Recordia can help facilitate this with ease. Recordia´s speech analytics and machine learning enables you to analyze interactions, spot trends and will help improve user experience. Call recording and communications monitor real-time interactions between employees and clients, can detect and improve weaknesses in your customer service, and help improve your team's communication skills.
If there´s a conference call, organized through Alexa for Business or another smart speaker and you´re unable to join, Recordia can record and store this call and you can catch up on what you missed without having to disturb colleagues.