Cloud Worldwide Services Joins Keller Cloud Innovation Program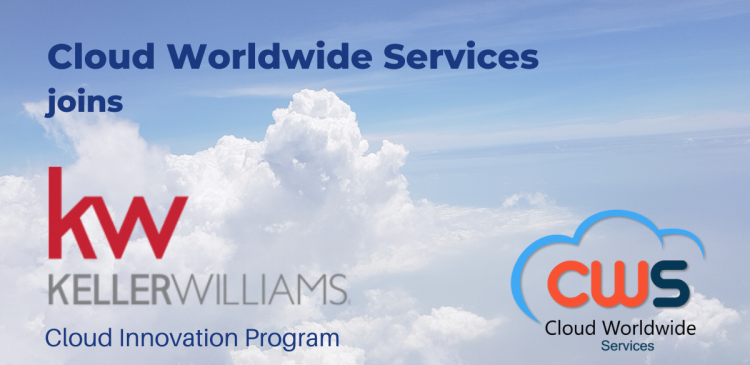 Madrid, 19.12.2019 – Cloud Worldwide services (CWS), a leading cloud solutions provider is proud to announce its partnership with Keller Williams Realty group, one of the top companies in the industry. CWS is now a partner in the Keller Cloud Innovation Program.
CWS' eComFax app, [available in the KW MarketPlace], will allow agents to have their own personal fax line on the go. The eComFax application is a highly secure virtual fax and advanced messaging system, which allows users to send and receive faxes and SMS to any recipient, from any application, device or location. KW agents will be able to send and receive faxes directly from their GSuite.
The KW MarketPlace is an app store for KW agents to browse top software integrations made by third-party developers. eComFax will integrate into Command, a smart CRM-plus suite of applications hosted on the Keller Cloud.
"We are excited to be partnering with Keller Williams who are transforming the Real Estate industry with exciting initiatives like the KW Cloud Innovator Program" said Santiago Vaño̒ Julia̒, CEO of CWS.
"Our highly secure cloud-based eComFax solution is an ideal tool for KW agents to send and receive confidential documents on the go. It's a tremendous honor to be part of an initiative that will dramatically improve the experience of buying and selling a home for KW agents and their clients."
eComFax transforms communications. Have you ever found yourself needing to send a purchase agreement, rental contract, inspection report or the hundreds of other documents you find yourself dealing with daily. Have you ever forgotten an important document in the office? With eComFax, you can access all your documents from any device and location with an internet connection.
Not only is it easily accessible, it has advanced security and encryption capabilities. In real estate, you deal with highly sensitive documents such as peoples financial records. eComFax guarantees secure transmission of clients' documents, which are encrypted before sending, during processing and transfer. It´s almost impossible for someone to gain unauthorized access. This also provides legal benefits: unlike email, faxes are admissible in court and it complies with data security and regulatory agencies.
In the KCIP role, CWS will work closely with Keller Williams, the world's largest real estate technology franchise by agent count, as KW expands on the Keller Cloud platform.
About the Keller Cloud Innovator Program
Through the Keller Cloud Innovator Program ("KCIP"), KW collaborates with leading technology companies, such as CWS, to enhance the operations of real estate businesses via the Keller Cloud, a proprietary, AI-fueled real estate cloud for Keller Williams agents.
Using a Keller Cloud application programming interface, or API, available for outside technology developers, KCIP enables the integration of additional top technology tools within an agent's Keller Cloud solutions.
Through benefits resulting from the KCIP, KW agents can now further customize Command. In February 2019, KW made Command available for all associates. Command now has more than 100,000 active users.
About Cloud Worldwide Services
CWS specializes in cloud based advanced communication solutions. Pioneers and over time becoming experts in developing, within AWS infrastructure, secure, compliant, reliable and scalable, advanced messaging and call recording solutions, that are trusted by Top global organizations that operate in regulated industries or demand high level security and encryption.
To learn more about ecomfax visit www.ecomfax.com or contact a rep today.