eComFax now available in Microsoft® Azure and Microsoft® AppSource marketplaces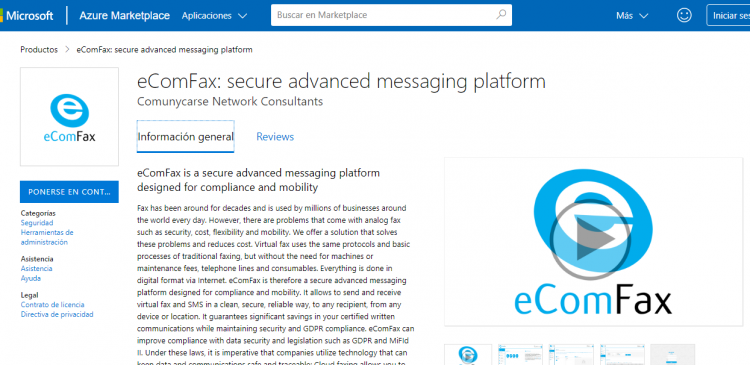 09.04.2019 Madrid- eComFax by CWS is now available in Microsoft® Azure and Microsoft® AppSource marketplaces.
You can find eComFax in the Azure or AppSource Marketplace by searching "eComFax" or "internet fax", "advanced messaging" and similar keywords or by clicking here.
Microsoft is one of the most recognizable companies in the world and holds a stellar reputation for innovative, reliable and easy to use solutions, among others. Is has been a leading global software company for many years, to enter its marketplaces poses a unique and outstanding opportunity for our company and is another important step towards our international expansion. Having eComFax and our other solution Recordia available on Microsoft® marketplaces, exposes our services to potential customers worldwide and will help grow our international presence.
eComFax is a cloud based virtual fax service that allows companies to send and receive faxes and SMSes from virtually any place that has an Internet connection: either via email or through the cloud-based platform of the fax provider. In this case, there is no need for software, fax server, or a fax machine, as longer as the sender and the receiver have an electronic device (a computer, tablet, mobile phone, etc.) with an Internet connection.
Microsoft® Azure and Microsoft® AppSource Marketplaces are online stores that offer applications and services either built on or designed to integrate with Microsoft's Azure public cloud. The products and services sold through the Microsoft Azure and AppSource Marketplaces come from either Microsoft directly or its technology partners. Before they become available for purchase on the Marketplace, all services and products are reviewed to ensure compatibility with the Azure public cloud.