Call Center software: Which call recording system should I use?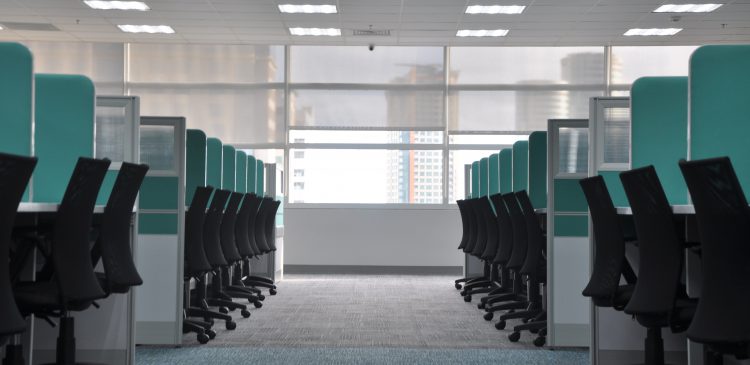 One of the main reasons for implementing a call recording system for call centers is to attract and retain customers. However, there is an equally, if not more important reason: to comply with existing laws and regulations. For example, the recent California Consumer Privacy Act (CCPA), which affects any company that collect and process the information of California residents, requires you to both get consent from customers and have access to all their data that you have, including phone calls. Having the calls' transcript with the recorded call, will be vital for your protection if a CCPA right becomes an issue for your company. You have to know exactly where every piece of customer information was collected. For these reasons, companies must ensure that they follow best practices and achieve the best call recording solution.
While call recording is almost universal in Call Centers, there are several ways to implement a call recording system, ranging from local server-based (On-Premise) solutions to cloud-based SaaS solutions. In addition, some solutions, such as Recordia, offer advanced options for companies with specialized needs and companies in specific industries, such as: Speech Analytics, Artificial Intelligence and Machine Learning.
Now, let's take a look at all the options available to help you decide on the right solution to meet your company's call recording needs.
What is a call recording sysyem?
A call recording system captures digital audio recordings of telephone conversations through a voice over IP (VoIP) or a public switched telephone network (PTSN). The system packages and stores the digital audio file so that later, it can be reproduced and analyzed. This analysis can be used for several reasons, including training, process optimization, business opportunity analysis, and quality assurance.
Quality departments often implement call monitoring solutions, which allow them to listen to live calls as they occur. A call recording system differs in that it also facilitates the recording of calls to listen back to the audios after the call. Call monitoring, unlike recording, is almost exclusively about ensuring that agents provide good customer experience, and is generally used in conjunction with other quality assurance tactics, such as training, advice and coaching programs for agents. Call recording is often used for a similar purpose, but it can also be used for storing calls, data exploitation and analysis and legal compliance.
Common types of Call Center Call Recording Systems
Call recording can be implemented in call centers in various ways. Your implementation strategy should be guided by the volume of calls you need to record, as well as the ways in which you want record calls and what functionalities and integrations you need to perform once you have the audio file stored.
Some companies need on demand call recording when an employee makes a call. This allows agents to record problematic calls at a specific time, while other users can use it to store important conversations such as meetings, interviews, sales or phone orders, etc. However, Call Centers may need to record a significant sample of their calls, or even all their calls. This requires specialized call recording systems for Call Centers.
There are 3 basic systems that offer different levels of call recording capabilities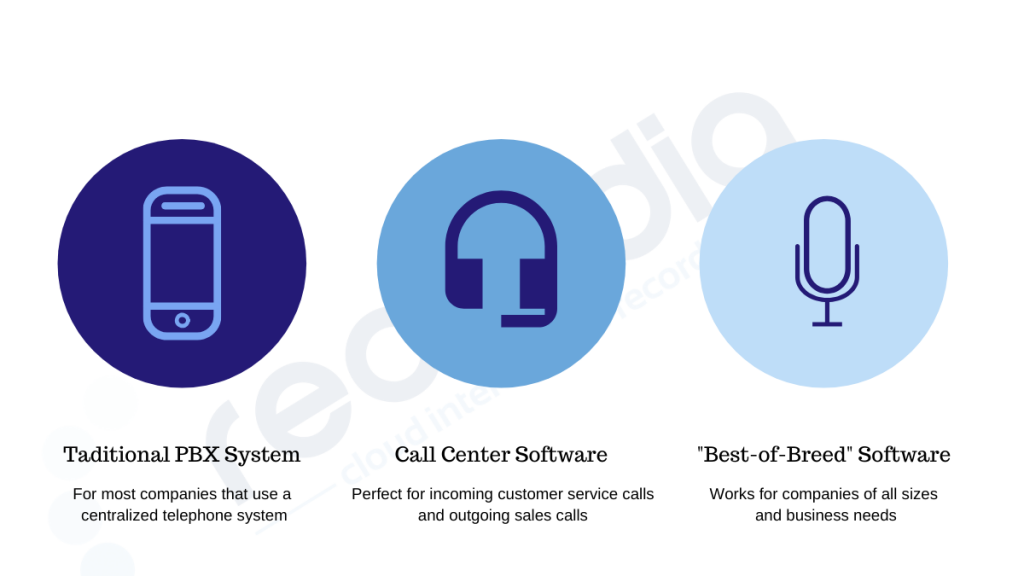 Standard Telephony System (PBX)
PBX or Private Branch Exchange, is a private telephone network used within a company or organization. Users of a standard PBX telephony system can communicate (internally and externally) using different communication channels such as VoIP, ISDN or analog. A PBX also allows you to have more phones than physical phone lines and allows free calls between users. In addition, it provides functions such as: transferring calls, voicemail, call recording, interactive voice menus (IVR) and call queues.
Users can start recording calls from applications installed on their devices: computers, mobile phones and desk phones. Call recordings are stored in various locations with this deployment model. Some systems download recordings directly to external hard drives or USB flash drives, while others store them on servers in the cloud. This randomized approach to storing recordings will not work for Call Centers that need to record and store all calls.
Call Center Software
Call center call recording software is designed for the specific needs of contact centers, where they have a high volume of incoming and outgoing calls, usually in a single physical site (large office). In addition to phone calls, some Call Center software allows you to record other channels such as email, SMS, instant messaging, web chat, etc.
In general, call-recording software for Call Center support agents initiates recording and automated recording of all incoming and outgoing calls. In addition, the Call recording software include advanced quality assurance features such as Text and Speech Analytics. This analysis can discover customers' feelings about interactions with agents by analyzing keywords and tones (in the case voice analysis). With this technology you can evaluate 100% of your calls.
"Best-of-Breed" System
There are many independent or "Best-of-Breed" call recording solutions in the market. These systems identify and intercept data from calls that pass through the network. Then they record, package and store the audio on a server in the cloud or on a server located On-Premise.
Some of these systems are hardware based and generally require the implementation of a special device between your PBX system and network switches. On the contrary, cloud-based SaaS solutions such as Recordia require no hardware or software downloads and are growing every year. "Best-of-breed" systems support the recording of a random sample of calls or all calls, but they may not support user-initiated call recording. In addition, they do not usually support the recording of interactions that take place in other media, i.e. text messages, web chat, email, etc.
Common call recording solution features
Recording calls on demand: Employees can start recording, instead of the system automatically selecting calls to record.
Remote monitoring: Allows users, agents and supervisors to listen to calls in real time to ensure quality without interrupting the conversation.
Pause and resume recordings in real time: Allows agents to pause a recording during the conversation, for example, if they have to put the client on hold to complete a task.
Dashboard: Provides details about a selection of recordings, including: date, time, call duration and any other data field assigned to the file. Many systems can filter recordings by category, subcategory, tags, agents, keywords, etc.
Speech Analytics and text analysis: Automated scoring and categorization of calls through the analysis of callers' tone (happy, angry, etc.) and keywords in the conversation (unsubscribe, competitors, etc.). Text analysis allows categorization of text-based interactions (emails, SMS text messages, web chats, etc.) by detecting keywords. These features are only found in advanced quality assurance call recording systems for call centers.
Screen analytics: Record and analyze interactions of agents that take place in software applications on devices or computers.
Encryption/masking functions for compliance with PCI, MiFID II: Call Centers dealing with bank cards for payments should generally avoid storing this data after processing to ensure compliance with industry standards (PCI). With voice and text analysis, as well as other methods, they can be used to detect and analyze bank card information in audio and text files. Confidential information in stored data can be encrypted, deleted or added white noise to recordings in places where callers provide confidential information.
What kind of buyer are you?
Now that you know the call recording system options for Call Center, you can determine which system is best for your business.
Companies that only need recording on demand should go with a PBX system.
Contact centers that operate primarily through telephone interactions should look for "best-of-breed" systems, especially if they do not seek to replace all of their software and hardware infrastructure.
Call centers that emphasize training should look for systems with quality assurance tools or independent quality assurance solutions to integrate these activities with the evaluation of call recordings.
Multimedia call centers will need an advanced call recording system with voice and text analysis, since basic call recording solutions do not record interactions through channels such as email, fax, SMS, and others.
Call centers where agents use applications such as CRM applications, should use screen analysis to complement call recording, otherwise supervisors will not obtain information on how agents interact with the CRM system.
Call centers that deal with bank information will need a solution that supports encryption and masking of that confidential information, and they may also need voice and text analysis to detect bank card information in recorded interactions.
Whichever solution you choose, call recording capabilities can provide invaluable information about the quality of the interactions and the performance of your employees.
Learn more about our solution Recordia, a cloud based solution that records both calls and interactions.