Recordia now available in Microsoft® Azure and Microsoft® AppSource marketplaces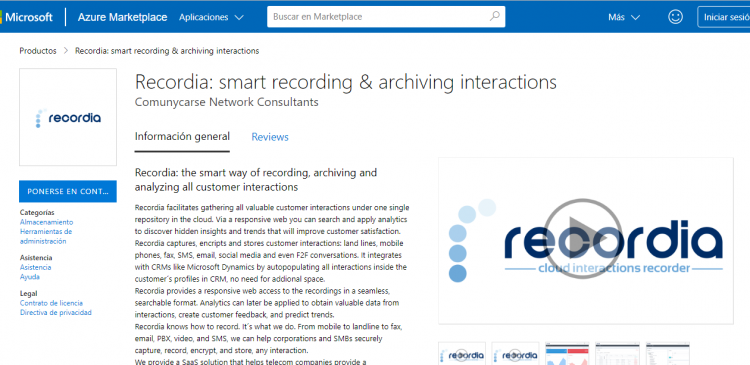 26.03.2019 Madrid- Recordia by CWS is now available in Microsoft® Azure and Microsoft® AppSource marketplaces.
You can find Recordia in the Azure or AppSource Marketplace by searching "Recordia", or "call recording" and similar keywords or by clicking here.
Recordia facilitates gathering all valuable customer interactions under one single repository in the cloud. Via a responsive web, you can search and apply analytics to discover hidden insights and trends that will improve customer satisfaction.
Recordia is a disruptive solution for recording interactions, able to capture, encrypt, record and store customer interactions: landlines, mobile phones, fax, SMS, email, social media and even F2F conversations. It integrates with CRMs like Microsoft Dynamics by auto populating all interactions inside the customer´s profiles in CRM, no need for additional space within Dynamics.
Recordia is quickly becoming a reference in Customer Information Completeness, which is increasingly cited as a business concern due to recent regulations such as MiFID II and GDPR. Recordia seamlessly integrates with most commonly used CRMs such as Microsoft Dynamics and Salesforce.
Microsoft® Azure and Microsoft® AppSource Marketplaces are online stores that offer applications and services either built on or designed to integrate with Microsoft's Azure public cloud. The products and services sold through the Microsoft Azure and AppSource Marketplaces come from either Microsoft directly or its technology partners. Before they become available for purchase on the Marketplace, all services and products are reviewed to ensure compatibility with the Azure public cloud.
Recordia is a solution by CWS, an industry leader in developing and providing cloud solutions leveraging over 20 years of extensive experience and excellence. A Certified AWS Advanced Technology Partner and AWS Public Sector Partner.