Recordia now available in Salesforce AppExchange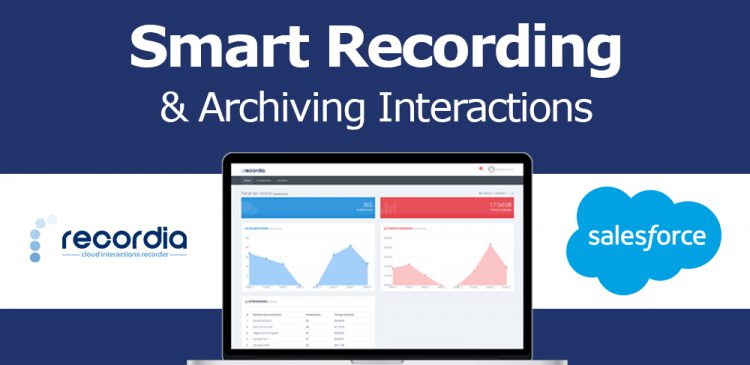 03.10.2019 Madrid – Cloud Worldwide Services is proud to announce that our interactions recorder solution Recordia is now available in the Salesforce AppExchange store. This comes after working alongside Salesforce for two years, and reflects the hours of hard work and dedication from team members here in CWS and from Salesforce.com.
The AppExchange is Salesforce's marketplace where users can find, download and install thousands of software apps. With more than 5,000 solutions, 6 million customer installs and 80,000 reviews, it is the most comprehensive source of cloud, mobile, social, IoT, analytics and artificial intelligence technologies for businesses.
Recordia is a disruptive interactions recorder, able to capture, encrypt, record, and exploit data in the Cloud, with the highest level of security available. Recordia is a Global Service Provider that records calls and other interactions such as video, SMS, Fax, Chats and Face-to-Face meetings. Recordia seamlessly integrates with Salesforce and allows users to gain a 360º view of their agents' performances as well as receiving insights for sales, operations and marketing departments.
The Recordia- Salesforce integration is simple and easy to use. Once you have logged into your salesforce CRM account you will find calls saved under "tasks". You can click the call you want to review and view the call details dashboard with all the information and the link "call recording" where you will be redirected to the Recordia platform and prompted to sign in. Here, you can playback, download, transcribe or see the call details.
If you would like to learn more about Recordia, contact us here or visit Recordia's AppExchange listing.