Recordia and eComFax now available in Ingram Micro Cloud marketplace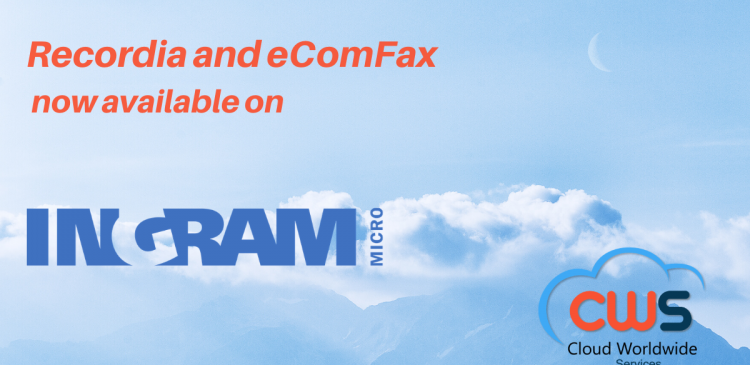 Madrid, Spain and Munich, Germany, March 19, 2020
Cloud Worldwide Services (CWS) today announced the availability of both Recordia and eComFax in the Ingram Micro Cloud Marketplace in Germany. The availability of these SaaS solutions on the Ingram Micro Cloud Marketplace will streamline the process in onboarding Recordia and eComFax for clients in Germany. This was made possible by the hard work and collaboration of teams from both companies and an important first step in their budding relationship.
Recordia is a disruptive interactions recorder that captures, encrypts, records and exploits data in the Cloud, with the highest level of security available. Recordia is a Global Service that record calls and other interactions such as video, SMS, Fax, Chats and Face-to-Face meetings. Recordia seamlessly integrates with CRMs such as Microsoft Dynamics and Salesforce and enables users to have a 360º view of their agents' performances as well as receiving insights for sales, operations and marketing departments.
eComFax is a cloud based virtual fax service that allows companies to send and receive faxes and SMSes to and from virtually anywhere (with an internet connection) and using any device; enabling companies to fully eliminate any on premise infrastructure and go fully 'cloud'.
About Cloud Worldwide Services
Cloud Worldwide Services, a Spanish company experiencing strong international growth, is a developer and provider of cloud technologies aimed at disrupting the IT and ICT markets. Native to AWS infrastructure, they create solutions that are secure, compliant, reliable and scalable and that are trusted by Top global organizations that operate in regulated industries or demand high level security and encryption.
About Ingram Micro Inc.
Ingram Micro helps businesses Realize the Promise of Technology™. Delivering a full spectrum of global technology and supply chain services to businesses around the world. With its expertise, vast global infrastructure and focus on cloud, mobility, technology lifecycle, supply chain and technology solutions, Ingram Micro enables business partners to operate more efficiently and successfully in the markets they serve. More at www.ingrammicro.com and https://de.cloud.im/.